We go to great lengths to make your experience comfortable and convenient, and strive to keep you on schedule with your visit.
New Patient:
It is important for you to thoroughly complete all paperwork prior to your appointment. Prior to your first office visit, please complete your demographics and new patient questionnaire. Please bring any recent or pertinent labwork, diagnostic tests, or a list of medications you are taking with you. Also please bring your or your child's immunization records if available.
Please arrive 15 minutes early for your appointment with a valid ID and insurance card to your appointment. We do not want you to miss valuable time with the doctor due to paperwork. If you arrive late, your appointment may have to be rescheduled. Please let us know if you have any questions or how we can further assist you.
Cancellation Policy:
If canceling an appointment, please give us 24 hour notice so that we can offer your appointment slot to other patients. It is not our policy to doublebook appointments. You will be financially responsible for all missed appointments or untimely cancellations.
For convenience, you may download the complete package of forms here: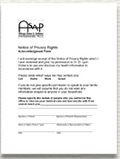 The forms package includes all of the individual forms described below.
ASAP New Patient Questionnaire
If you are a new patient, please print and fill out this form. This is so we can have your medical history and insurance information on file.
We strive to make each of your visits pleasant and comfortable. Due to the increased requirements of insurance companies, and to help us better serve your needs; please take a few minutes to answer the following questions.
Practice Notices and Acknowledgment
This notice describes how medical information about you may be used and disclosed and how you can get access to this information. Please review it carefully.
ASAP HIPAA Acknowledgment
This form grants permission to the doctors to inform you and/or your family members of your medical health.
If you wish to send over records from other doctors before being seen by Dr. Dickens you can print out the form below and give/fax it to the doctor you are requesting from to have the information faxed to us.
Problems or questions? Contact ASAP
---